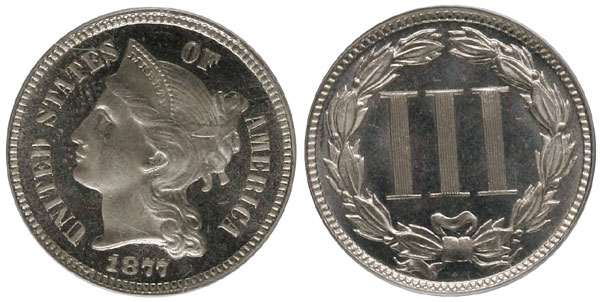 By the mid-1870's production quantities for the Nickel Three Cent Piece had dropped considerably since there was little demand for the denomination in commerce. However, proof versions of the denomination would be struck for collectors.
The 1877 Proof Nickel Three Cent Piece (Buy on eBay) had a mintage of just 900 pieces. This ranks as the lowest mintage among the three years of proof-only issues for the series, making it one of the keys to completing a collection.
Most survivors are average Proofs, with cameos being rare and only a few certified deep cameo pieces in existence.
Coin Specifications
Designer: James B. Longacre
Composition: 75% Copper, 25% Nickel
Weight: 1.94 grams
Diameter: 17.9 mm
Edge: Plain